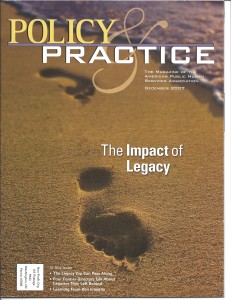 There are so many ways that one can be touched by the incredible storytelling of events that redirected people's lives. John Calhoun's "Hope Matters" celebrates faith as a verb. You may find a new way of looking for your purpose within those pages.
Through the odysseys of individuals, including that of the author, "Hope Matters" reminds us what is possible. The book demonstrates how faith and action can change a life, a neighborhood, even if all seems lost. It shows, through the writing and stories of people who reclaimed themselves and their communities, how religion can be used to embrace and heal.
Mary Gonzales strolls the streets of Chicago's meatpacking district every evening, keeping a watchful eye over her neighborhood kids. Tony Ortiz encourages young men in California state prisons to break free of the brutal gang life he once knew all too well. Brooklyn's District Attorney Joe Hynes champions women and children, not wanting them to suffer as he suffered.
Gonzales, Ortiz, Haynes and the 21 other individuals Calhoun has interviewed are reshaping lives and communities across America. They include Christians of every denomination, Muslims, Jews and others, some who pray five times a day and some who are "not that religious." You may have heard of some of these Americans. Several are in the news. Their words and work shine in their communities. What you haven't heard about is the underlying force, the hidden source of their energy and selflessness.
It is faith and, in some cases, unsuspected spirituality. They have the unshakeable sense that they work not only for their organizations – and each individual they encounter – but especially for God.
I've had the pleasure of speaking to Calhoun several times and the vanity to claim him as a friend. Calhoun was once an eager divinity school student, hungry to make a difference. Through the years he rose to national prominence in public policy, spending 20-plus years as the founding president of the National Crime Prevention Council. But caught up in never-ending committee meetings, speaking engagements, and policy and program initiatives, he found that he had lost touch with the bedrock of his vocation. It took an encounter with an unusually clear-sighted volunteer to reconnect his daily work to his faith in God.
Reinvigorated, Calhoun embarked on a two-year cross-country quest to find out how faith motivates some of America's hardest-working public servants. They pursue innovative and ambitious plans to help their communities, and their accomplishments are impressive. But just try telling them so.
They will tell you that they have been chosen to fulfill a larger purpose. Their paths have been rocky, their burdens heavy, and the work hasn't always been fun. Yet they feel blessed, emboldened by their trust in a higher power to live lives of acceptance and unbounded love.
You won't hear these folks preaching from the pulpit or in the streets. They have no sermon or script to follow. Theirs is a ministry of open arms and second chances, of waking up each morning with new challenges and going to bed each night with renewed faith.
Fresh, engaging, authentic, the book tells the story of remarkable people who are transforming our communities, rolling back crime and hatred, neglect, isolation and a multitude of indignities. Get to know them deeply, these Christians of every denomination, Muslims, Jews, Baha'is and others, and find yourself renewed. A quick "cyber trip" to Calhoun's web site, HopeMatters.org, with more from his book, is also worthwhile.
Since retiring from the NCPC, Calhoun continues to write and give speeches here and abroad in addition to serving as a consultant to the National League of Cities Institute for Youth, Education and Families, where he designed, and now helps to administer, a 13-city gang prevention program in California.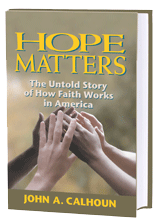 This is a powerful book. Calhoun has woven such a beautiful tapestry that at once highlights the unique talents and styles of so many who give of themselves, but at the same time underlines with clarity the commonalities we all share. Some recent books have laid divisiveness and hostility at faith's door. "Hope Matters" brings to light the togetherness and reconciliation that faith engenders when good people heed its call to action. The book will cause you to do something good. ~
First published in the Policy & Practice: The Magazine of the American Public Human Services Association, December 2007 edition.