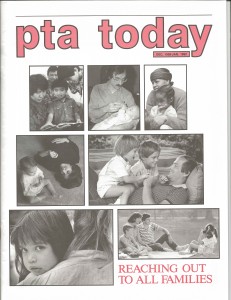 Unfortunately teenagers in this country have a bad reputation. How many times have you heard parents say they dread the teenage years? They look upon it as a time fraught with trouble. No matter how much we treasure our own children, when we think of teenagers as a group, our thoughts turn to those who need help-the illiterate, drug-using, pregnant, depressed and suicidal, violent.
In many-if not all-communities, the tools for helping such young people include services such as short-term job training, long-term therapy or direct intervention. But in such situations the young people are receiving, not giving. Little is being done to reinforce their sense of self-worth or perception of their role in the community.
The same is true for the kids who don't seem to need help, who are making it through school with decent grades and dealing with the great changes of adolescence. What do these young people need so that they can gain a sense of their potential for productive living in adult society? They need to feel needed.
Teens in our society need a place, a purpose, a stake and role in the community. They need to play a part in shaping the present and future. They need a taste of adult behavior and expectations, a chance to try on some career skills and an opportunity to do things on their own.
Until recently apprenticeships played vital roles, whether they were formal arrangements with craftsmen, or helping father or mother. Citizenship and civic responsibility were taught along with the skills for adulthood. But changing demographics, economics, educational needs and social structures have eliminated or greatly diminished many of these mechanisms.
Community Needs
Every community has a lot that needs doing – younger children who need to be taught self-protection organizing, hospitals and nursing homes that need extra hands to care for the infirm and aged.
The shift in workforce demographics has reduced sharply the number of adults available to volunteer in the community. Increased opportunities to assist with community projects exist, ranging from work with the handicapped to cleanup of public spaces.
Needs Can Benefit All  
The answer to both needs – youths' need to have a stake in their community and the community's need to have tasks accomplished-may lie in programs where young people help address important community problems.
A program in which youth are resources can go beyond projects in which well-meaning adults herd young people through a prepared exercise. Young people can identify local needs and possible solutions and help solve problems. All young people can be involved-joiners and nonjoiners, those on the honor roll and those with barely passing grades, kids in trouble and kids who have never thought of getting into trouble.
Given the opportunity for responsible, useful involvement and the chance to contribute, young people will acquire a stake in their communities that will help them mature into successful adults. The message to all kids should be: "You have talents and skills which can help; there's a place and a need for you."
The Concept Works
Designed by the National Crime Prevention Council and funded by the Lilly Endowment, the youth as resources idea has been tested in Evansville, Fort Wayne and Indianapolis, Indiana. In each city a board consisting of local citizens-those working with youth, members of the media, local policymakers, school officials, young people themselves offered grants for community service projects that teens play a substantial role in designing and implementing.
In just two years, the effort has resulted in more than 150 projects involving more than 1,000 young people. The amounts are modest-most grants range from $50 to $2,000-and the results are amazing. The diversity of participants is remarkable-Scouts, probationers, religious groups, school clubs, dropouts, 4-H members and more. The problems tackled include drug and alcohol abuse, teen pregnancy, AIDS, homelessness. The benefits are extensive: improved attitudes and skills among participants, host agencies that see new ways to bring young people into their governance process, and individuals and agencies directly helped with such needs as child care, counseling, housing maintenance and cleanup and peer education.
One group of teens learned that a day-care facility in a low-income area was about to be closed because it did not have adequate outdoor play space. The group sought a project grant to buy materials and did all the design, permit-seeking and construction for age-appropriate play facilities. Result: a much-needed service remained available to working parents.
A Girl Scout troop in another city developed weekly summer outings for children who were living with their mothers in a shelter for abused spouses. The Scouts planned each trip, secured the necessary permissions and transportation and dealt with different mixes of ages and sexes from week to week. The outings were so successful both in their impact on the Scouts and in their effect on the young people and their mothers that the Scout Council has appropriated its own funds to keep the program going. More importantly, the young women grew in community awareness.
In another program a group of teenage mothers, mentored by adult mothers via 4-H, developed and performed a powerful play depicting the costs of teen parenthood. That play served as the keynote "address" for a statewide conference.
Do the young people change?  Without question.  Pre- and post-project attitude surveys indicated maturing perceptions of the adult world; many comments indicated an increased sense of self-esteem. "I've never been thanked before," was one young probationer's observation. "I know I'm helping," explained one youthful reading tutor.
But the change can be even more significant. In the Reading Buddy program, teens provided a willing audience and a regular schedule for individual reading aloud by the young people. One young reader announced that the problem was that he needed bigger books and bigger words to keep on reading. A parent proudly described how impressed relatives had been with her daughter's improved reading ability.
A Logical Focus  
Can a "youth as resources" program be carried out without a separate board and grant-making source?  Absolutely. Schools and school systems throughout the country are installing various forms of community service requirements. They range from tallied hours (Atlanta requires 75 hours service for graduation from high school) to focused projects (students in the Washington Governors' School pick local projects after intensive state-level training).
Schools in Duluth, Minnesota; Papillion, Nebraska; Westtown, Pennsylvania; Washington, DC; St. Louis,
Missouri; Spring Valley, New York; San Antonio, Texas; Los Angeles, California; and dozens of other cities have set up programs in which young people help define the problems and find the solutions as part of their service to the community. The National Crime Prevention Council (NCPC) outlines these and other programs and gives tips on how to start a local effort in its book, Reaching Out: School- Based Community Service. Some of these programs are for academic credit; some are just for the experience. Some are voluntary; some are mandatory. Some are school-wide and some are specific courses that students must select. Some are within the curriculum and some are outside it.
But whatever the description, the approach the program takes should be that young people are resources, that the community should engage their talents and help them develop a sense of stake in and commitment to their community. Local programs can include grants for projects or can bring teens into the governance and project development process.
Schools can incorporate "youth as resources" into ongoing curricula or can create new efforts challenging young people to take on responsibility for meeting a school need or solving a problem. Funding can come from existing community service allocations or from arrangements with or through other support groups. Local businesses can be invited to contribute the amount of a "typical" grant or to adopt a specific project proposed by the young people.
The Result  
Engaging young people in solving community problems and addressing local needs helps them hone their skills, test career interests and develop a sense of community awareness and responsibility. In many respects, youth as resources shares the benefits that community service generically offers.
But it is more.
Placing young people in responsible positions to help solve real problems sends a clear message that they are needed, wanted and capable. They can learn to be dependent not on family and friends but on themselves. They learn they are worthy because of what they, personally, have done and can do.
People who feel they share ownership in something, whether tangible or intangible, are more inclined to build it up and preserve it and less inclined to ignore it or tear it down. And that is the kind of community spirit-and the sense of citizenship-each of us would like to leave to our children and grandchildren.
John Calhoun is executive director of the National Crime Prevention Center (NCPC). Jean O'Neil is NCPC director, research and policy analysis.
* Originally published in the December 1989 issue of PTA Today, a publication of The National PTA.