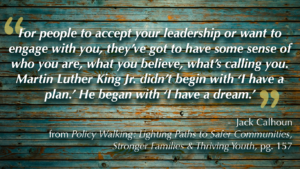 My new book, Policy Walking: Lighting Paths to Safer Communities, Stronger Families & Thriving Youth spotlights programs from across the nation that are actually creating those paths and programs that work. .  Equally as important, Policy Walking lifts up the voices of those who run the programs and those whose lives have changed because of them.
The work is tough, demanding leadership at all levels, from those on the street attempting to stop retaliation by forging relationships with the angry and untrusting, to nurses trying to improve life chances for both mother and newborn, to those running city-wide violence prevention/community renewal strategies.
I have led efforts at the neighborhood, city, state and federal levels. While the content and scope of my work over five decades has differed, the lessons learned through leadership – some bruising – have remained constant.  In Policy Walking I cover these lessons in detail, hoping to guide, to inspire, to re-energize my fellow "policy walkers" and "policy leaders."  A few of the lessons I share are:
Put vision at the top of your list.  It's not just what you're doing, but why.  We humans are meaning seekers.  We will do almost anything if we view a task as important, something bigger than ourselves.  Your vision must be grounded in the needs of real people in real, hurting communities.  For people to accept your leadership, they've got to have a sense of who you are, what you believe.
Learn constantly. Be sensitive to trends, to knowledge of effective practice, to what happens to human lives.  The editorial writer Michael Gerson takes this a step further, citing the importance of empathy, deep listening and the ability to identify with others that "can inspire sacrifice" and "commitment to justice."
Stoke your energy. Brusque, grouchy and unclear, you're no good to anyone.  Turn off your cell phone – yes, your umbilical cord.  For me it's writing, singing in a choir (a choir I neither manage nor raise funds for – I just sing!), photography, and steeping (well, celebrating) with family and friends.
Know the real source of your authority. Yes, it may be your director, the mayor, the city council, or a governor, but it's much deeper than that: your real power is intrinsic, not extrinsic. Ultimately, you are authorized and commissioned by the child who needs you, the family in disarray, those about to be victimized, and those who are disconnected from family, neighborhood, school and hope.
That "source" is what's at the heart of "Policy Walking: Lighting Paths to Safer Communities, Stronger Families & Thriving Youth." I hope what you find in its pages – the stories, lessons and people I've met along the way –  will help you on your policy walk and light your path, as well.