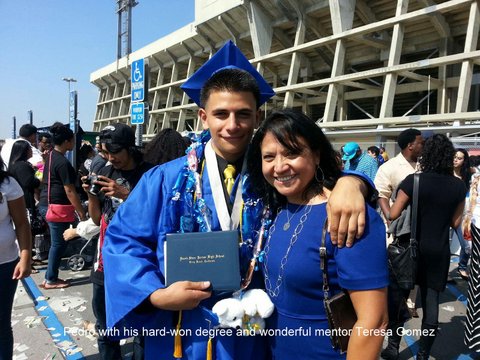 It started six months ago in Winnipeg, Canada at an impromptu high school assembly where a youth in a red shirt, who gave me an angled, suspicious look, amazed me by easily defining all the tough words in a discussion about youth who "make it." I told the principal I wanted to meet him, and did. Telling him how brilliant he was, that few adults could define "resiliency" "altruism" and more, I also let him know that I sensed a whiff of trouble about him.  I was right.  I told Bob Axworthy, conference organizer and leading political figure in Manitoba, that as he'd exploited me mercilessly –from keynote to keynote to informal discussions, etc., etc.,- he owed me, at a minimum, a commitment to mentor "Red Shirt."  Such a commitment would serve as an honorarium.
He did. I'd only spotted "Red Shirt." Axworthy did all the hard work.  Two weeks ago, six months later, he wrote this: "Jack, today was a good day.  We gave our friend hope for the future.  There can be a better life, a changed life. A sense of optimism.  We placed Alex in his first job at a motorcycle dealership to start right after his exams.  He will be building motorcycles and learning about the business.  Today was a good day, Jack." Axworthy will stick with Alex, and he will start a mentoring program at the school where I first met "Red Shirt."
A few weeks after I met "Red Shirt," well before he became "Alex" to me, and before Bob had begun his mentoring, I found myself sharing the "Red Shirt," story with people in Long Beach, California where a team of us were partnering with the city to help design a comprehensive violence-prevention plan.  "We have our own Red Shirt," Teresa Gomez, a Long Beach city official told me. "He's over there helping set up chairs for the community meeting today.  Want to meet him?"  Teresa had been mentoring Pedro for some time.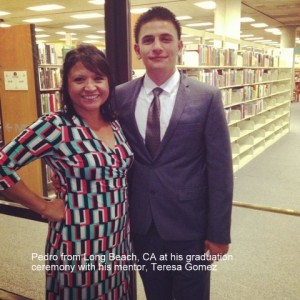 I met Pedro who told me he was trying to finish high school so he could go to college.  When I asked him what books he had read, he replied 'none,' so I gave him some money to buy his first books.  He bought and read two, Kite Runner, and the other about kids locked up in juvenile jails, "kids," he told me later, "that are like me, kids who reminded me where I was headed."
Again I did the easy work of spotting and encouraging. Teresa did the hard work, the daily work of sticking with Pedro's ups and downs, of fits and starts, of excitement about the future and fear of failure, of new goals he'd never thought possible, of friends "homeboys" who might pull him back.   Pedro at a crossroads, sometimes daily, Pedro doing the really tough work.  But Teresa always there.
This picture of Teresa and Pedro arrived just about the time I received Axworthy's e-mail about Alex's motorcycle job. Along with the picture, Teresa wrote about their work together over the year, the slow and hard shift from Pedro lamenting that "…I don't really think any of that is possible," to graduation "…as the Male Academy class president with a higher than expected GPA and enrollment at Long Beach City College…"  Her message commissions all of us: "I tell this story to let others know what a difference a little time and attention from a caring adult can make in the life of our young boys and girls, many of whom have no hope nor do they believe that dreams can come true."
These two boys have now erected their first milestones – a job, a degree. The sight of milestones assured travelers that they were on the right path, even after struggling through threatening or uncertain paths. If not for two caring adults, Alex and Pedro would each be walking on uncertain, even dangerous paths, paths without an anchoring milestone, paths leading nowhere.
I've spent my life trying to improve the circumstances in which certain children, youth and families live.  Much of it means dealing with the structures—jobs, education, family support, easy access to guns, and more – that impact their lives.
Occasionally I am blessed, in this case doubly blessed, to see and meet those who are the reasons for our policies. And it's more than feeling good about what they've accomplished or being inspired about what Bob and Teresa have done,  but what Pedro and Alex give us, namely, the essential fuel, hope, that keeps us struggling through the tangled thickets of law, regulation, program and policy.
So it's not really what we've done for them, but what they've done for us.