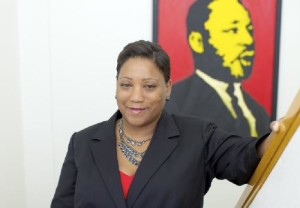 Policies, important as they are, often shield us from seeing and being profoundly inspired by those doing the work on the street where policy engages the human condition, where policy walks, where policy meets the frightened, the angry and, all too often, the wounded or slain.
Tasha Williamson, founder of the San Diego Compassion Project and the Block By Block program, which helps young people embrace alternatives to gang involvement, is policy walking. She is a remarkable woman who enters San Diego's gang conflict zones armed only with compassion, an unquenchable passion fueled by her own troubled childhood, and outrage over the fate of so many of San Diego's children – especially young men and boys of color.
Her activism began early: at sixteen she led the fight for multi-cultural classes, "because we knew the history of white America, but we didn't know anything about ourselves."  In her early 20's, unmarried and with two young kids, she led the fast street life: money, cars and anger.  To relieve tension and find some peace, Tasha would escape to a park near Beverly Hills. One day she was approached by an elderly white woman.  "I've been watching you watch us play croquet since you were coming here in high school," the woman told her. "You have something.  I don't know what it is.  And I want you to know, your kids are sponges and will become you.  They will follow you.  They will reflect who and what you are."
That night Tasha left the street life and her abusive boyfriend.  "We moved into a shelter. I found strength there." She sought and received counseling for the depression and anger that stemmed from surviving childhood and domestic abuse, which had also led to several suicide attempts. Over time she learned self-care, deep breathing, and meditation.  She came to realize that, "you wind up on the path you're supposed to be on…  All of my past was preparation for this—the Compassion Project," and the work of advocating for children like her special-needs son, Caleb.
In 2013 Williamson was awarded the California Wellness Foundation's prestigious California Peace prize for her work with the Compassion Project and Block by Block. The Foundation described her as, "a fierce advocate for peace [who] works directly with families who have experience[d] trauma associated with homicides, suicides and assaults."
But the real story has to do why she began the Compassion Project, and, more importantly, how she stays there.  Tasha grew up in the midst of gang fights in LA, in "a neighborhood of unrelieved violence where we always heard sirens, heard helicopters overhead."
The Compassion Project grew organically from her conviction that kids should never grow up around an unrelenting diet of sirens and shooting. "I wanted to relieve this daily trauma that leads so many kids to fear, self-protection, anger, retribution, school failure and jail."
Witnessing those suffering unimaginable trauma and a deep sense of social justice (or social injustice) gives Tasha purpose.  She recently intervened after a gang slaying within two blocks of an elementary school.  Police swarmed around the school while helicopters hovered, patrolling over the scene.  "Kids on the main route to school saw human body parts spread over bushes.  I asked the city and school to provide counselors, therapists.  They have yet to see the urgency for these kids. 'If this were Coronado or La Jolla or a university,' I told them, 'the school would have counselors available around the clock.' No counselors in the school, yet.  I'm still fighting this battle."
Tasha and her Compassion Project team wade right into the middle of scenes that are wildly chaotic,  cauldrons of trouble. Her team is seen as the calming element. While each incident differs, common elements remain: wracking grief at the death of a loved one, usually someone young; rampant drinking and drug use by family and neighbors to numb the pain; anger and preparations for revenge; milling crowds seeking retribution, or who rail at the police, angry because they can't get close to their loved one's body, and blaming the police for not stopping the killing.
"We go from one to the other: we try to soothe the survivors with compassion, hugs and prayers; we make every effort to stop the drinking and drug use, imploring the family not to take revenge; we go out to the crowd, trying to calm them.  And then more often than not we'll make suggestions to the police -telling them who to talk to, who needs information, what next steps they plan to take." She says that human connection is essential. "I hug the police, too.  They've told me, 'We couldn't have done this without you all.' You know, they're people too. They need hugs, and we give them."
Tasha asserts that heart of the problem is how kids now view reality: "They see all this violence as normal …And worse, they see no response.    So they have to protect themselves, wrapping themselves in fear, anger, pain, and a hair-trigger readiness to respond.  They feel alone and that they're not worthy of a better way of life.  I alongside others want to change that view for them."
This is exceptionally tough because Tasha sees systems all around her that respond poorly to violence, if at all. "Part of our work is to let [victims] know that they do have help, that they don't have to take matters into their own hands." Thus after the prayers, the crowd control, after  helping raise money for funeral costs and ensuring the family has something to eat, Tasha turns her attention to those agencies that must respond and protect. She works with schools, police, neighborhood groups, probation, child welfare and others. Tasha even accompanies families of the victims and victimizers to court. "I work closely with the judges and the DA's because the families can be re-traumatized in court – cussing, crying, screaming, promises of revenge.   I have to advocate for both families."
Tasha has experienced violence personally, and she has seen the worst than human beings can inflict on one another. Yet she views the violence as an aberration.  Once she was told by educators that her son Caleb's violent behavior was normal.  Appalled, she stated,   "All kids are born beautiful.  They are born to love, born to trust.  Violence is unnatural.  It is learned. Stop believing that violence is normal for black and brown people! Many of those who have died or become suspects in homicides are later found to be suffering from some form of mental health or brain disability. I say that if they were provided services it might have saved two lives, the victim's and the suspect's."  She sees her son Caleb as one in a long line of children who, even at four years of age, could be, "headed right for jail if they don't get the services they need at the earliest age possible."
What keeps Tasha going?  Her unerring sense of purpose; the sure knowledge that so many of San Diego's and Los Angele's kids, even pre-school kids, are on an inexorable path to jail; meditation, and "amazing people that I know and work with – angels disguised as human beings."
This past Memorial Day weekend the nation stopped: It stopped to thank and honor those men and women in our armed services who for this nation have walked into fire, for those who have come out of the fire maimed, and for those who have not returned at all. Words cannot capture what we owe them.
We have foot soldiers here in this nation, too, individuals who put their lives on the line every day. As we honor our uniformed soldiers, so we must also thank and honor those rare individuals like Tasha Williamson who walk into the fire, who hold the wounded, console  grieving families, and who, by their selfless actions, inspire us to act.
Contact Tasha at tashawilliamson1@gmail.com or via the San Diego Compassion Project, c/o the Urban League of San Diego County 720 Gateway Center Dr. San Diego, CA 92102, phone:  619-534-9938